Family day homes
Approved Family Day Homes
The Child Care Licensing Act states that anyone caring for seven or more children must be licensed by the Government of Alberta. Individuals who care for six or less children do not require a license, but have the option of becoming an approved family day home. Approved family day home agencies recruit, monitor and support these family day home providers.
These approved home-based early childhood educators may care for infants, toddlers and pre-school aged children. They may also offer before-and-after school care for children.
Learn more about family day homes
Private Babysitters
People who offer child care out of their homes, that have not been approved to operate under the provincial family day home category, are considered private babysitters. These programs can offer private babysitting to up to six children, not including their own, at any given time. These programs are not monitored by the Government of Alberta.
Benefits to Becoming an Approved Provider
As an approved family day home provider, you: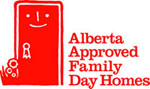 May care for up to six children in your home, including your own children;
Receive support from consultants;
Participate in networking opportunities with other family day home providers;
Receive child care training and have access to other professional development opportunities;
Enable eligible families to qualify for child care subsidy to help meet the costs of child care;
Be provided with home visits to ensure the safety of your program;
Utilize the Approved Family Day Home Logo, the smiling red door;
May qualify for Accreditation funding, including wage top-ups; and
Have agency staff assist in placing children in your care.
Application Process
The Family Day Home Standards Manual describes the basic health, safety and care requirements for approved family day homes.
The application process will include, at a minimum:
At least two home visits, with the objective of assessing the suitability of potential providers in their home environments;
A current first aid certification;
Proof that the applicant is at least 18 years of age;
A completed criminal record check, including vulnerable sector search, for the applicant and

A completed criminal record check, including vulnerable sector search, for anyone who is over 18 years of age who resides in the home or who may be in the provider's home on a regular basis during regular operating hours
And/or, a statement by the applicant disclosing any prior criminal involvement of any person younger than 18 years who resides in the provider's home.

Three satisfactory personal references from non-relatives that corroborate the provider's suitability for working with children; and
A physician's note that states the applicant is mentally and physically able to care for children.
If you are interested in becoming an approved family day home provider, contact a family day home agency using our online lookup.
Family Day Home Agencies
Agency consultants are employed by approved family day home agencies. They work closely with both family day home providers and parents to ensure the safety and well-being of children in their provider's care. As per the Family Day Home Standards, agency staff responsible for the monitoring of approved family day home providers for compliance to the family day home standards must be certified at minimum as a Child Development Worker.
Agency consultants can assist providers by providing them support in such activities as:
Developing programs for children at different stages of development;
Providing advice about nutritious meal planning; or
Helping choose toys and equipment that are safe and developmentally appropriate.
Inspections
Approved family day home agencies are required by the Standards to monitor all providers at least six times per year with both scheduled and unscheduled visits.
Agency consultants utilize a standard, Government of Alberta checklist to ensure adherence to the Standards.
The Alberta Child Care Accreditation Program
In Alberta, all licensed and approved child care programs must meet a minimum set of provincial standards. The Alberta Child Care Accreditation Program establishes standards for day care programs and approved family day homes that exceed the provincial standards. These higher standards have been developed by members of the child care sector together with Alberta Human Services. The Alberta Association for the Accreditation of Early Learning and Care Services works with accredited programs to make sure they follow these standards. This voluntary program is the only one of its kind in Canada.
Created:
Modified: 2015-12-16
PID: 15859