Approved Family Day Homes
Quality early learning and care supports children's emotional, social, intellectual and physical development. One option for quality care in Alberta is approved family day homes. The Child Care Licensing Act states that anyone caring for seven or more children must be licensed by the Government of Alberta. Individuals who care for six or less children do not require a license and have the option of becoming an approved family day home. Approved family day home agencies recruit, monitor and support these family day home providers.
These approved home-based early childhood educators may care for infants, toddlers and pre-school aged children. They may also offer before-and-after school care for children.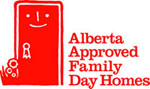 Approved family day home providers proudly display the official family day home trademark – the smiling red door.
Learn more about family day homes (Windows Media Player is required to view this video.)
Private Babysitters
People who offer child care out of their homes, that have not been approved to operate under the provincial family day home category, are considered private babysitters. These programs can offer private babysitting services to up to six children, not including their own. These programs are not monitored by the Government of Alberta.
Benefits of Choosing an Approved Family Day Home
There are many benefits for children and their families to using approved family day homes, such as:
Children are cared for in a home-based environment;
Children of the same family but of different age groups may be placed together;
Family day home agencies provide support for parents in finding a family day home provider that best suits their needs;
Home inspections by the Government of Alberta and the family day home agency;
A maximum of six children in care supports safety and supervision of children;
Child care subsidy may be accessed to assist eligible parents with the cost of approved child care.
To assist you in choosing the best care for your child, please refer to the Choosing Child Care Manual for useful tips and information.
If you are interested in utilizing an approved family day home provider, contact a family day home agency using our online lookup.
Family Day Home Agencies
Family day home agency consultants work closely with both family day home providers and parents to ensure the safety and well-being of children in their provider's care. As per the Family Day Home Standards, agency staff responsible for the monitoring of approved family day home providers for compliance to the family day home standards must be certified at minimum as a Child Development Worker.
Agency consultants can assist families by providing them support in such activities as:
Helping families find a provider who is the best fit for their children;
Providing parent's with handbooks that outline important information concerning their child's care; and
Provide information and referral services for other community, health and developmental supports.
Inspections
Approved family day home agencies are required by the Standards to monitor all providers at least six times per year with both scheduled and unscheduled visits.
Agency consultants utilize a standard, Government of Alberta checklist to ensure adherence to the Standards.
The Alberta Child Care Accreditation Program
In Alberta, all licensed and approved child care programs must meet a minimum set of provincial standards. The Alberta Child Care Accreditation Program establishes standards for day care programs and approved family day homes that exceed the provincial standards. These higher standards have been developed by members of the child care sector together with Alberta Human Services. The Alberta Association for the Accreditation of Early Learning and Care Services works with accredited programs to make sure they follow these standards. This voluntary program is the only one of its kind in Canada.
Concerns
If you are concerned about the health, safety or well-being of a child in licensed or approved child care, or in a private babysitter's home, please contact your local Child and Family Services office.
Once a complaint is received:
The licensing officer will determine if your complaint falls under the scope of the

Child Care Licensing Act

, the Child Care Licensing Regulation, or the Family Day Home Standards;
If your complaint is within the scope of these laws and standards, an investigation will be conducted;
The child care program or private babysitter will be told there is a complaint and given an opportunity to correct the situation;

Licensing officers do not reveal the name of the individual who has made the complaint.

If the investigation reveals non-compliance with the laws or standards, the program or babysitter will be required to correct the situation and ensure future compliance.
The Government of Alberta takes all complaints and concerns about the welfare of children in child care programs and in the care of private babysitters seriously.
Created:
Modified: 2016-05-05
PID: 14891