Eugeniu
Building the city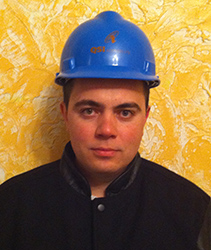 A newcomer to Canada, Eugeniu has already made a big mark on his adopted City of Edmonton.
Seven years after leaving his native Moldova, not a day goes by when the 32-year-old father-of-two doesn't drive past at least one of the landmarks he's worked on as a lather-interior systems mechanic.
While completing his apprenticeship program, and in the year since he became certified in his trade, Eugeniu has contributed to projects like Commonwealth Stadium, Edmonton International Airport, Federal Building and University of Alberta.
"Every day I look around and say, 'I built that office, store or school,'" said Eugeniu. "This is something I can show to my children and feel proud about."
Eugeniu's hard work, commitment and dedication to the trades haven't gone unnoticed. Eugeniu was recently presented with an Alberta Apprenticeship and Industry Training Board Award for earning the top mark in the final year of his apprenticeship program.
Eugeniu, who also has a university degree in public administration and once considered a career in law, said the path he chose, is something that he does with passion. "I have always liked to be creative. I like to use my knowledge and imagination to create things with my hands."
More information on apprenticeship
Created: 2014-04-17
Modified:
PID: 17505